Trial and error at the Sail-Today clincs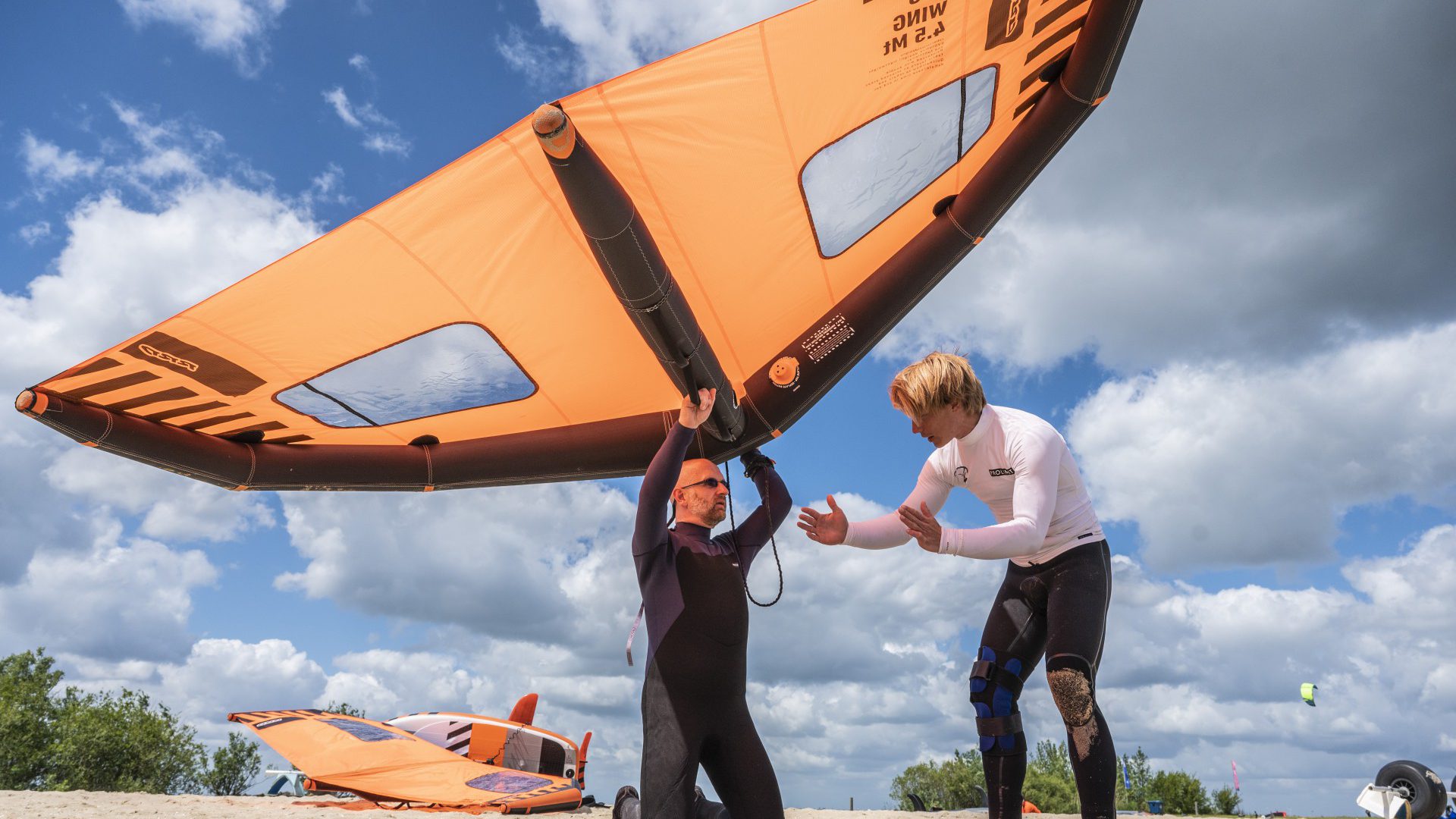 Photography Leonard Fäustle
At Muiderzand, Sail-Today offers various clinics all week long. Surfing, windsurfing, wing sailing and catamaran sailing. The first participants have already been out on the water and leave with a big smile.
The first two days there was quite a lot of wind, but they didn't find it cold. Now the windsurfing clinics are also given in the safe area and the sup clinic is more in the lee. Dirk is a sailor, but wanted to try windsurfing as well.
On the water the most fun
"We are here this weekend with friends with our boat in the harbor, last night one of the sailors mentioned that there was a windsurfing clinic the next morning. I tried it myself once before. The clinic was a lot of fun, the instructors are very relaxed. They first started with some explanations, but soon we went out on the water, which is of course the most fun. It was quite windy and in the bay there were quite a few waves. But it went well! Maybe I will do it more often."
Thomas Fluit was one of the instructors of this clinic. He indicates that it was trial and error. "It was a really nice group, you could tell they were enthusiastic and eager to learn. Of course it's trial and error, but along the way you could see that things were getting better and that they were really standing up on the board."
Wingfoiling a great alternative to kite surfing
Astrid Spruit tried Wingfoilen. This means tearing across the water with a small kite in your hand on a board. Although, in Astrid's case, the board didn't go out of the water right away. "I did stand directly, which wasn't too bad. But the foiling bit, that's hopefully for next time."
"I have to say that I'm already a water sports enthusiast though, maybe that makes it a little easier too. I've always done kitesurfing and supping, when I was younger also some windsurfing. But for the last seven years, since I have a daughter, I've actually stopped kitesurfing. It's a somewhat dangerous sport after all, and windsurfing I find too demanding."
"My husband had looked into wingfoiling and asked if that might be fun to try. It looks pretty simple, and I think it is. The first lesson I stood right up, but you can also start on your knees. Of course you fall sometimes and I still have to learn how to steer the wing and get out of the water with the foil. The guys say that must be a really nice feeling."
Also want to follow a clinic?
In addition to windsurfing and wing sailing, you can also learn catamaran sailing and paddling. The whole week these clinics are offered at Sail-Today, but also after this week you can of course still get lessons in these different water sports. Click here to register for a Sail-Today clinic or check out their website for more information about the regular classes!